Nuno Mendes' Lisboeta – a restaurant capturing the essence of Lisbon within four walls opened on March 21st. Set over three floors of a charming Charlotte Street townhouse, the restaurant marries elements of the modern and traditional, brought together with Nuno's signature flair.
Lisboeta's interiors, developed with Nuno's friend, architect João Guedes Ramos, are unmistakably Portuguese and strongly anchored in the city's origins. A combination of whitewashed walls, exposed brick, and hues of green and blue will set the tone – a palette reflective of Lisbon's coastal influence. Running the length of the room, the ground floor boasts an imposing counter-style bar, backed with built-in wooden cabinets in the style of a traditional Portuguese pharmacy. A sweeping wooden staircase leads guests to an elegant upstairs dining room, flooded in natural light from an impressive skylight and floor-to-ceiling windows.
Every element of the interior has been meticulously sourced. From a bar topped with lioz – a limestone unique to the region of Sintra, to bespoke flooring created by a Lisbon-based masonry workshop – designed to emulate the city's cobbled pavements, and the artwork lining the walls. The art has been chosen by Nuno and reflects a mix of pieces from his personal collection, Feira da Ladra – Lisbon's famous flea market, and works he commissioned from emerging Portuguese artists.
Developed by Nuno, Lisboeta's menu evolves throughout the day, reflecting the fluid rhythm of Lisbon's dining culture. Lunch and evening menus include Snacks, Charcuterie and Cheese, and Petiscos, alongside larger plates of Tachos and Travessas, all designed to share.
The current menu begins with a selection of snacks, moreish plates such as Vindalho Empada (Goan-spiced pork pie). An array of small plates – Petiscos – follow, including Bacalhau à brás – confit cod, caramelised onions and potatoes. Some dishes showcase ingredients direct from Portugal, including native Portugese seafood such as Carabineiros (large deep-sea scarlet prawns) from the Algarve with garlic & piri-piri and Cured greater amberjack from the Azores with orange & onion. There will also be Plumas de Porco Preto, grilled Acorn-fed Black Pork from Alentejo. The Tachos and Travessas – large 'pots and platters' for the table – feature signatures such as Arroz de Marisco (Red Prawn and Razor Clam Rice) and Chanfana Lamb (slow-cooked lamb shoulder with a red wine, turnip top & bread stew) which make impressive centrepieces. Dishes will change regularly to reflect the seasons and ingredients available.
An exclusively Portuguese wine list is home to more than 100 wines, curated by Beverage Manager Ieva Markaityte. Lisboeta's collection focuses on the Lisboa region, alongside a broader exploration of Portugal's diverse offering from well-established, historic producers and key players in the contemporary, low-intervention scene. These wines also reflect Nuno's long-standing relationships across the industry, with regular producer spotlights and bespoke bottles available, the result of collaboration with vintners such as Dirk Niepoort and Quinta do Montalto. Cellar space has been dedicated to a selection of extremely rare vintages, as well as wines from some of Portugal's most lauded young winemakers, like Joana Pinhão.
The lower ground floor of the restaurant houses the 'Adega', or wine cellar, a private dining space with a special set menu.
Lisboeta opened at 30 Charlotte Street on March 21st 2022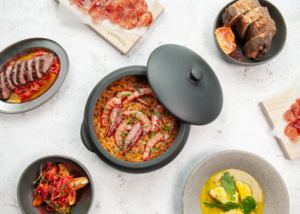 Website: http://lisboeta.co.uk/
Instagram: @Lisboeta.London
Opening Hours:
Monday: 5pm to 11pm
Tuesday – Saturday:
Midday to 11.30pm
Sunday: Midday to 5pm
Address:
30 Charlotte Street, London, W1T 2NG