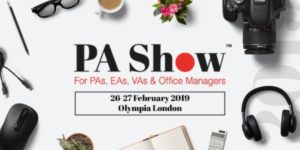 The PA Show has announced its line up of keynote speakers for the event taking place on 26th and 27th February 2019 at Olympia, London.  The two day show already offers a highly popular series of paid for seminar sessions, that are CPD accredited, covering personal, career and skills development.  The Keynote Theatre is a complimentary feature of the show available to all attendees and features current, aspirational and motivational sessions from leading names that are well known on the PA circuit.
Duncan Siegle, Event Director, said: "With all our sessions we make sure we are delivering hot topics, from experts and our keynote theatre really reflects that this year.  We've brought in some big names that our audience will love hearing from and that really will be the icing on the cake for the 2019 PA Show."
Siegle continued:" We are delighted to be welcoming Catherine Mayer, Founder of the Women's Equality Party and Ann Hiatt, formerly Chief of Staff at Google, as our two main keynote speakers on each day.  They have some fascinating insights to share on how to lead and change an organisation and how to maximise your potential.  We're working with Lucy Brazier, of Executive Secretary, to talk about strategic partnerships and Laura Belgrado, of KIND International, talking about The Assistant of Tomorrow.  Melissa Esquibel is on hand to ensure we stay relevant with technology and we welcome two sessions focusing on business travel, one by our main media partner, PA Life, and another by Corporate Traveller.  The keynote Theatre will really live up to its name this year with a fabulous line up of speakers and sessions.  Coupled with our outstanding line up of CPD accredited seminars, The PA Life Masterclasses, this really is a strong line up of content and speakers."
Full details of all the speakers and their sessions, along with the full programme of CPD accredited seminars can be found on The PA Show website www.thepashow.co.uk
Attendance to the show and listening to the keynote sessions is free of charge but the seminars are pay to attend, full details can be found on the website.
The PA Show takes place on 26th and 27th February at Olympia, London
Attendance to the show is complimentary for all as are the sessions on the Keynote Theatre.  The PA Life Masterclasses, all CPD accredited, are paid for session.  All information on the sessions and PA Life Masterclasses as well as how to register can be found on the website: www.thepashow.co.uk