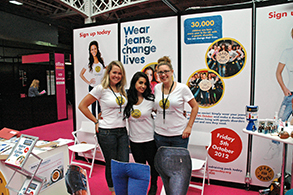 Jeans for Genes Day is the annual fundraising campaign for Genetic Disorders UK, the national charity that supports individuals and families affected by a genetic disorder. The next Jeans for Genes Day will be Friday 21st September 2018.
Laura Pattison, Campaign Director at Jeans for Genes comments "we are delighted to partner with office* because of the fantastic support our fundraising appeal has from office professionals. PAs and office managers are key fundraisers for Jeans for Genes, so it makes perfect sense for us to partner with office*"
Meet the Jeans for Genes Day team at office* to find out how you can get your workplace involved. Plus visitors to their area can receive a denim manicure and enter a denim raffle. Office* show is returning to Olympia, London on the 28th February – 1st March 2018.
Duncan Siegle, office* show's Event Director adds: "office* is proud to partner with Jeans for Genes Day, we hope our visitors will join us in supporting their worthwhile cause.  The partnership will also allow us to develop some great content from high profile speakers as well as great experiences for visitors to the show."
Find out more about getting your workplace involved in Jeans for Genes Day here: www.jeansforgenesday.org/getinvolved/workplaces
Find out more about office* show and register to receive your complimentary ticket here: http://officeshow.co.uk/visit/register-now