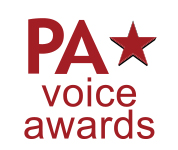 Yes, just what you have been waiting for – the PA Voice Awards 2022 are underway!
So, your nominations and votes are now invited until Midnight, Thursday 31st March 2022, with the grand finals shortlisted voting stage for our PA Voice Awards 2022 running to Midnight, Saturday 30th April 2022!
You will be able to cast your votes for your preferred favourites to set them on their way towards winning one of those most coveted PA Voice Awards 2022 – all voted for, by you, our valued members of the WorkSmartPA admin professional community.
It really is the time and the place to have your say!
How did this start?
Since 1999, formerly as pa-assist.com, we have been working with our on-line PA community to listen and understand who our on-line Community Members consider to be the best at what they do.
In 2014 we launched our very first Member's Voice Awards that quickly polled more than 7,500 votes in just three weeks, and this continues to grow year on year!
Since 2020, we revised and updated to the current version branding as the PA Voice Awards!
What happens next?
It's time to nominate until Midnight, Thursday 31st March 2022 , and the final votes for the shortlists will be accepted from from 1st April 2022 until Midnight, Saturday 30th April 2022
Likely final categories will include:

Best PA Specialist Recruitment Consultancies
Best PA Training Providers
Best Travel Management Companies
Best Venue Finders
Best Learning and Development Events
Best Popular Tools
Best On-line Forums
PA Voice Awards 2022 – get involved – time for your voice to be heard?
Please cast your nominations via the link below or mail us on support@worksmartpa.com with new category suggestions (normally a maximum of 4 to 5 minutes to complete):
https://www.surveymonkey.co.uk/r/PAVoice2022