The Barbican won the Venue Team of the Year Award in the Forward Thinking Venues section at last night's Hirespace Awards.  The event took place took place at Landing 42 in the heart of London.
In a setting with stunning views over the capital, the Barbican Business Events team were rewarded for their modern approach, quality of delivery and focus on customer service.
The Barbican's Head of Business Events, Jackie Boughton commented: "It is wonderful to be amongst the winners at the first ever Hirespace Awards.  Ed Poland and his team put on a fantastic event and I am delighted to see our team rewarded for their dedication and hard work."
Ed Poland, co-founder of Hirespace commented: "Last night was a tremendous success.  We welcomed more than 200 industry leaders to an evening of great food, great company and great results.  I am delighted that the Barbican was amongst the winners.  Their team is dedicated to the delivery of great events and this was a fitting reward for all their hard work."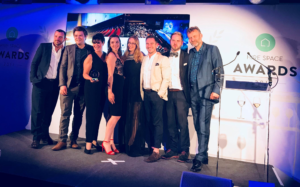 The Barbican is one of the world's leading conference and international arts venues. Located in the City of London, it is capable of holding meetings from 10-2,000 delegates in its fully equipped concert hall, theatres, conference suites and boardrooms. Barbican Business Events brings together the venue's expertise in the arts and corporate meetings.
Built as part of London's Barbican development and officially opened in March 1982 by HM Queen Elizabeth, unlike many other venues, Barbican was specifically built with the dual purpose of holding conferences and arts events presenting a diverse range of art, music, theatre, dance, film and creative learning.
The Barbican's Business Events team contributes to the venue's future success. To make the most of the Barbican's rich culture and heritage, Barbican Business Events was created to bring together their expertise in three very different areas – the arts, creative learning and corporate business. This approach to corporate events is based on stronger, more in-depth partnerships with their artistic, creative learning and development teams in order to bring more creativity and rich content to events.
The Barbican provides a vibrant and inspiring venue for corporate events, conferences, meetings and entertainment. The venue is capable of holding meetings from 10-2,000 delegates in spaces including a concert hall, theatres, a boardroom and conference suites that can accommodate 10-170 delegates and can be adjusted using sound proofed sliding. As part of its wider investment strategy, the Barbican spent £2.2m on a significant refurbishment throughout the Centre in the summer of 2016 including its Frobisher rooms and Level 4. The focus of the Frobisher refurbishment is designed to create an even stronger connection between the Centre's main conference and meeting facilities and its arts spaces.
The diverse meeting spaces at the Barbican include:
Barbican Hall
Barbican Theatre
Three cinemas
The Garden Room
The Conservatory
The Boardroom
Frobisher Suite
Various meeting and conference rooms
Foyers
About the Barbican
A world-class arts and learning organisation, the Barbican pushes the boundaries of all major art forms including dance, film, music, theatre and visual arts. Its creative learning programme further underpins everything it does. Over 1.1 million people attend Barbican events annually, hundreds of artists and performers are featured, and more than 300 staff work onsite. The architecturally renowned centre opened in 1982 and comprises the Barbican Hall, the Barbican Theatre, the Pit, Cinemas One, Two and Three, Barbican Art Gallery, a second gallery The Curve, foyers and public spaces, a library, Lakeside Terrace, a glasshouse conservatory, conference facilities and three restaurants. The City of London Corporation is the founder and principal funder of the Barbican Centre.
The Barbican is home to Resident Orchestra, London Symphony Orchestra; Associate Orchestra, BBC Symphony Orchestra; Associate Ensembles the Academy of Ancient Music and Britten Sinfonia, and Associate Producer Serious. Its Artistic Associates include Boy Blue Entertainment, Cheek by Jowl and Michael Clark Company. International Associates are Royal Concertgebouw Orchestra of Amsterdam, New York Philharmonic, Los Angeles Philharmonic, Gewandhaus Orchestra Leipzig and Jazz at Lincoln Center.