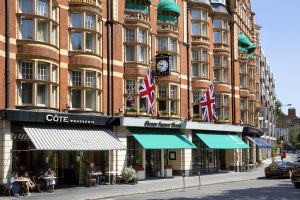 Occupying three redbrick townhouses in SW1W, the Sloane square Hotel captures all the culture, elegance, quirkiness, and variety that Chelsea has to offer.
Bedrooms … 
Showcasing our timeless heritage and style, our guest rooms are classically and elegantly decorated in keeping with the history of the area while providing all the amenities the modern traveller would need.
Some overlooking Sloane Street or Holy Trinity Church, one of the few churches in the British Isles that can be regarded as what the Germans describe as a 'gesamtkunstwerk' – a total work of art.
Dining …
From get-up-and-go breakfasts to Italian platter and exquisite afternoon tea, there is always something to savour at The Lounge. With signature Champagne Gin cocktails and the season's hotspots, the Great British staycation starts in Sloane Square.
Meet & Party with us …
Whether you are looking for an excuse to get out of the office or wish to reward your staff for all their hard work, the Sloane Square Hotel is right place to "lose the tie".
The Lounge: If you are looking to host a drinks & canape reception to network or socialise after a meeting, before dinner or your night out, The Lounge offers the perfect space and atmosphere with a fantastic view of Sloane Square.
Tonteria: Boasting one of London's largest tequila selections, hand-crafted cocktails, and a delicious Mexican tacos menu as well as an extensive list of performers, Tonteria will make your event unique and unforgettable.
Why choose us?
Convenient location
easily accessible from all London airports and close to one of the main London rail stations
walking distance to the one of the most renowned high streets
close to museums and London's parks
neighbours to some of the capital's most rich and famous residents (including footballers and Royal family!)
Independently owned
More focus on guest needs vs. focus on chain brand standards
Freedom to be creative and innovative
Unique identity
More space for original design, product creativity and a unique identity.
Less bureaucracy and more attention to original guest experience and unique initiatives.
More detail-oriented
Ability to adjust services to meet your budgets
A family history and a love for the place are the driving forces and the pillars of authenticity and uniqueness.
If you wish to discuss corporate rates, please contact our Sales Manager Rita on rita@sloanesquarehotel.co.uk
For any generic reservation enquiry please contact our team on reservations@sloanesquarehotel.co.uk